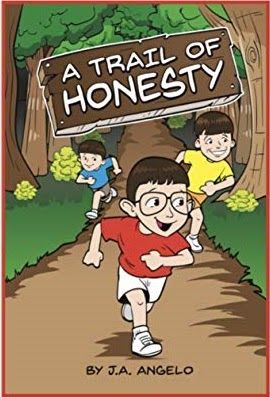 Children's Book, Children's Social Issues
Summertime is vacation time for the Angelino family, and the two Angelino boys are excited about their upcoming camping trip. They're going to the local state park, where they can swim, go fishing, and look for wildlife!
Being on vacation doesn't mean the boys have to be careful. An encounter with a sneezing deer provides their father with an opportunity to teach the boys about respecting wildlife and staying alert for danger. Knowing more about the park's wildlife helps the boys have more fun while staying safe. They discover staying quiet and moving slowly makes it easier to see the animals and birds that call the park home.
At the camp, the boys have responsibilities like the rest of the family. When they neglect one of these responsibilities and lie about it, they wind up in trouble—and learn an important lesson.
Beautifully illustrated, A Trail of Honestyteaches children about honesty while explaining actions have consequences. J. A. Angelo's delightful story is an ideal way for parents to use consequences to teach children how to be better people—not simply to punish them.

About the Author
United States Army veteran J.A. Angelo believes strong family values build strong families. J.A. and his wife enjoy volunteering in their local school district and are leaders in various non-profit organizations catering towards children. They also donate to various national and local charities to include the Apraxia Kids, Wounded Warrior Project, and the Coalition to Support America's Heroes. A portion of the book proceeds will go to these great organizations to help children and support veterans and their families.
J.A. Angelo is originally from Zanesville, Ohio and currently resides in northern Virginia. He is a dad to three wonderful children – two daughters (16) and (10), and a son (7). He is also a devoted husband to his loving wife of 17 years. He is also the oldest of eight children – three brothers and four sisters.
Some of our hobbies include spending time with our family, writing, donating time and materials to charities, and going to the beach.
Until next time,